A Tarantino-napok során szó lesz a kiváló direktor összes eddigi filmjéről, valamint egyéb meglepetés cikkek is várhatóak a témában! A mai téma pedig nem más, mint a Jackie Brown, QT harmadik rendezése!
Jackie Brown (Pam Grier) stewardessként dolgozik. Fizetését néhanapján azzal próbálja meg kiegészíteni, hogy pénzt csempész be az országba egy fegyverkereskedőnek, Ordellnek (Samuel L. Jackson). Egy nap azonban hiba csúszik a számításba, rajta üt a reptéren egy ügynök és egy zsaru. Megfenyegetik Jackiet azzal, hogy hosszú börtönévek várnak rá, már persze ha nem segít nekik elkapni Ordellt. Így a nőnek döntenie kell, hogy kinek az oldalára áll ebben az egyre veszélyesebb játszmában...
A fenti cselekményismertető alapján akár azt is feltételezhetnénk, hogy a Jackie Brown nem más, mint Tarantino mester eredeti ötlete, hisz ő is gyakran alkot nagy fordulatokkal rendelkező, sok karaktert mozgató történeteket. Azonban nem így van, ugyanis rendezői pályája során először és utoljára fordult elő, hogy egy irodalmi művet adaptált vászonra.
Persze azért Elmore Leonard írásának (Rum Punch) nem szolgai másolatát készítette el Tarantino, hanem jócskán hozzátette a saját stílusát! Köztudott, hogy rendezőnk mindig igényesen választja ki a filmjeiben hallható zeneszámokat, ez pedig most sem történt másként. Lehet, hogy ez elsőre kis dolognak tűnik, pedig nagyon nem az, sőt így már alapból kapunk egy kiváló alaphangulatot.
Imádom QT filmjeiben, hogy nem akarja azokat sablonos karakterekkel megtölteni! Mindig olyan szereplőket alkot, akik érdekesek, valamilyen szempontból kilógnak a többiek közül, sőt közben nem is kicsit őrültek! Azt nem tudom, hogy a regényben is így volt-e, mert eddig kimaradt nekem, de úgy gondolom, hogy azért jócskán kellett Tarantino ahhoz, hogy a végeredmény ilyen emlékezetes legyen.
A mester filmjeiben nagyon fontos szerepet töltenek be a karakterek közti szellemes dialógusok, ez most is így van természetesen. Az a jó az ilyen alkotásokban, hogy hiába nem történik percekig más, mint hogy karakterek beszélgetnek, de a dumájuk annyira érdekes, hogy a néző szájtátva hallgatja őket végig. Most is nagy adagok kapunk ezekből az "aranyköpésekből", tényleg profin vannak megírva.
A cselekmény kellően fordulatos ahhoz, hogy végig érdekelni tudjon az egész. Alap, hogy most sem maradtak ki az árulások és a megtévesztések, amik ezt az érdekes játszmát csak még izgalmasabbá varázsolják. Mivel több fontos karakter is van a címszereplő mellett, ezért mindegyikükből kapunk egy keveset, hogy az élmény egy percig se váljon unalmassá.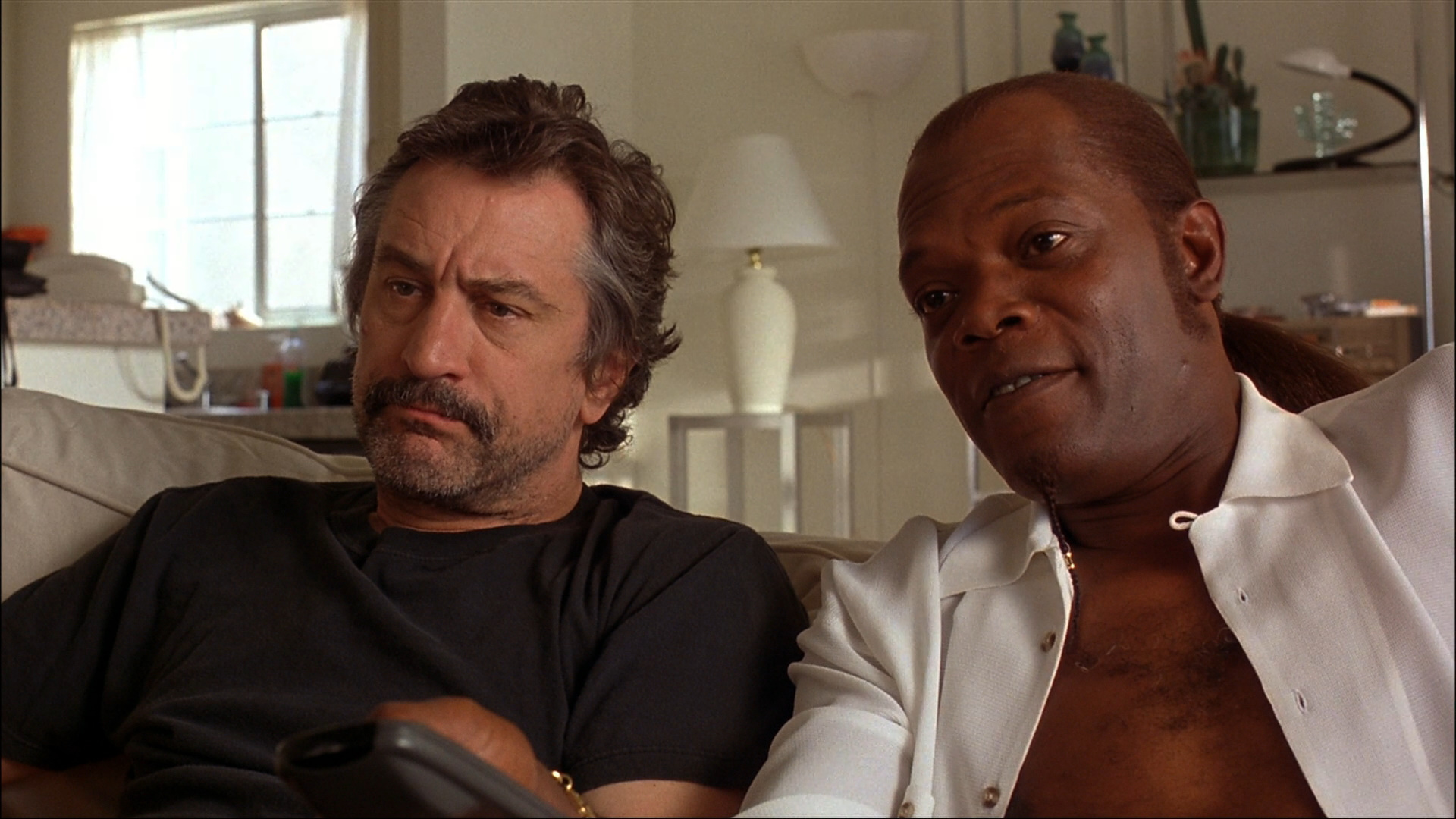 Azért azt hozzá kell tennem, hogy a Jackie Brown valamivel gyengébb, mint mondjuk a rendező azt megelőző két alkotása. Persze ettől még a végeredmény egy több mint jó filmélmény, de valami mégis hiányzik belőle ahhoz, hogy mondjuk Tarantino három legjobbja közé kerülhessen. De az is tény, hogy sok rendező ölni tudna azért, hogy egy ilyen pazar mozit tudjon letenni az asztalra!
A sztárparádé most is garantált! A főszereplő, Pam Grier különleges módon kelti életre karakterét, így jár neki az elismerésem. De nem meglepő módon a direktor egyik állandó színésze, Samuel L. Jackson is nagyon jó volt, nem is beszélve Robert De Niroról és Michael Keatonról, akik mindketten nagy színészek, sőt még itt van Bridget Fonda is, aki szintén nem volt semmi!
Összegezve, a Jackie Brown egy remek Tarantino-film. Nem látszik rajt meg, hogy most az alap adva volt egy regény keretein belül, hisz ugyanúgy tele van menő dialógusokkal, fordulatokkal és ékes beszólásokkal, ahogy a mester előző alkotásai is. Ajánlom a megtekintését kérdés nélkül, hisz egy furfangos, végig izgalmas élmény, nem akármilyen módon "előadva"!
Értékelés:85%
Legközelebb a Tarantino-napok keretén belül: Kill Bill 1-2
Kedveld az oldalt a Facebookon is!