Az Idétlen idők sikere óta meglehetősen nehéz valami maradandót alkotni az időhurok témakörében, hisz a legtöbben akarva-akaratlanul is koppintásnak bélyegzik az egészet már egy előzetes után. Persze, lehet több műfajjal is keverni a formulát, amire volt példa az évek során, például akció-thrilleres köntösben (Időhurok Ethan Hawke főszereplésével), vagy ott van a horror-komédia hibridként funkcionáló Boldog halálnapot, ami két részt is kapott. A sort pedig még nagyon sokáig lehetne folytatni.
Vegyétek készpénznek: ha nem lett volna a járvány, akkor a Palm Springs biztosan nem a Hulu kínálatában köt ki. Történt ugyanis, hogy év elején hatalmas nagyot ment a Sundance filmfesztiválon és valószínűleg egész szép bevételt gyűjthetett volna össze világszerte. Meglepő módon azonban hazánk azon kevés ország közé tartozik, ahol nagyvásznon is be lehet vizsgálni Max Barbakow rendező első (!) nagyjátékfilmjét.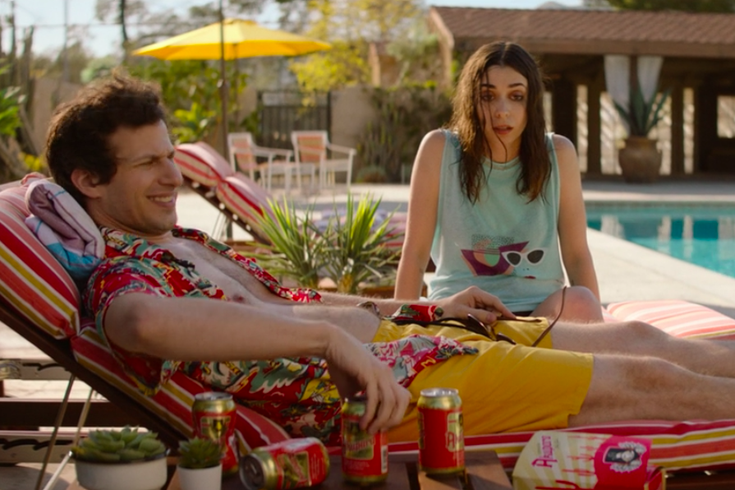 A hype gyakorlatilag nulla volt körülötte, de ez tényleg ne vegye el senki kedvét, ezt a filmet bizony látni kell, de legalábbis több mint érdemes! Pedig a történet első látszatra nem tűnik valami "hű de eredetinek", azonban szerencsére ezúttal jóval több van a dolgok mögött, mint ami először felsejlik.
Az egész lényege, hogy a főszereplő tag (Andy Samberg) időhurokban találja magát, így újra és újra kénytelen átélni azt a napot, mikor barátnőjével egy esküvőre hivatalosak – ám az ő kapcsolatuk is jó ideje zátonyra futott. Azonban minden megváltozik, amikor találkozik Sarah-val (Cristin Milioti), aki legalább annyira unja az egészet, mint ő maga.
Azért annyira friss és jóleső élmény a Palm Springs, mert nem ragaszkodik feltétel nélkül műfajának unalomig ismert kliséihez. Példának okáért, nem vesztegetik az időt azzal, hogy bevezessék a főszereplőt saját helyzetének megértésébe, ugyanis már rögtön úgy kezdődik, hogy tudatában van saját helyzetének, mi több: nem is keresi mindenáron a kiutat belőle, egyszerűen csak megtanult együtt sodródni az árral, s közben még élvezni is, amennyire ez lehetséges.
Egy dolgot bánok csak igazán, de az nem konkréten a film hibája: hogy a forgalmazó nem hozta be pár héttel előbb. A Palm Springs ugyanis annyira árasztja magából a nyári hangulatot – dacára annak, hogy nem is akkor játszódik -, hogy a legnagyobb tikkasztó melegben még nagyobb bűnös élvezet lett volna elmenekülni a tűző nap elől a mozitermek felüdülést jelentő hűvösébe.
Az elsőre színtiszta vígjátéknak látszó mozi aztán nagyon hamar bizonyítja, hogy van ennél több is a tarsolyában. Az, hogy főszereplőink mindig ugyanazt a konkrét napot élik meg, természetesen lehetőséget nyújt arra, hogy minden alkalommal teljesen más, őrült dolgokat csináljanak és eltérőképp lépjenek interakcióba a körülöttük lévő többi személlyel. Ahány "újrakezdés", gyakorlatilag annyi eltérő lehetőség, bravó!
Talán nem működne az egész a kiváló színészek nélkül. Úgy látszik, 2020 a komikusok éve a vásznon is: pár hete Scott Davidson bizonyított a Staten Island királyában, most pedig Andy Samberg is sokoldalúságáról tesz tanúbizonyságot. Partnere, Cristin Milioti pedig olyan természetességgel hozza a lázadó, "teszek az egész világra, de kétszer"-típusú karakterét, hogy nem bírtam nem tiszta szívből bírni őt. Hogy nem hallottam eddig még róla? Ja, majd elfelejtettem: J. K. Simmons, ha csak mellékszerepben is, de akkorát villant, hogy majdnem lopja a showt!
Összegzésként, mit mondhatnék még? A Palm Springs nagyon fasza film. Rendkívül humoros vígjáték, némi kis drámával és fontos, de abszolút nem a néző képébe nyomott mondanivalóval, szimpatikus színészek előadásában. Az időhurok-tematika megújítását leszámítva abszolút nincs új a nap alatt, de azt mondom, sose baj. Hogy miért? Mert ez egy piszok szórakoztató, a lehetőségekhez képest eredeti és maximálisan szeretnivaló filmet kapunk. Gondolkodás nélkül adok rá 10/8-at, ha szeretnétek egy remek utó-nyári moziélményt, akkor ennél most biztosan nem találtok jobbat a kínálatban.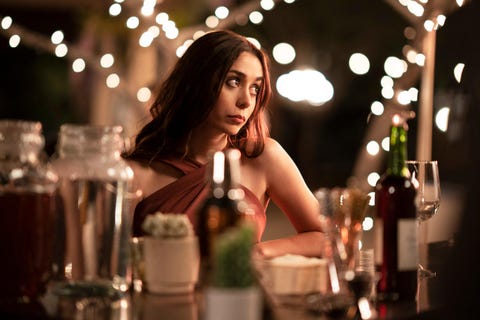 Ha tetszett és a jövőben sem szeretnél lemaradni a hasonló dolgokról, iratkozz fel YouTube-csatornámra és nyomj egy kedvelést Facebook-oldalamra!