Emma (Anya Taylor-Joy) előszeretettel avatkozik bele barátai szerelmi életébe. Magát azonban független, önállóan is boldogulni képes nőnek tartja, akinek nincs szüksége társra. Legalábbis így gondolja -de vajon így is van, vagy esetleg nem jól látja a dolgokat?
Jane Austen egyik legnagyobb klasszikusa az 1815-ben publikált Emma. A történetet több korábbi mozifilm és sorozat is feldolgozta, a címszereplőt játszotta már többek között Kate Beckinsale és Gwyneth Paltrow is – ez utóbbi változatot egyébként jó szívvel tudom ajánlani, szerintem meglehetősen korrektül sikerült. A kérdés azonban az, hogy érdemes-e bizalmat szavazni a legújabb verziónak?
A film még márciusban mutatkozott be hazánkban először a gyöngyvásznon, azonban nagyjából egy hétre rá zártak a mozik, így esélyem sem volt nagy karriert befutni és szép sikereket elérni. Most, a mozik újranyitása után azonban ismét lehet sasolni Autumn de Wilde rendezői debütálását – aki egyébként a videoklipek világában érkezett, ám ez szerencsére nem nyomja rá a bélyegét a látottakra.
A történetet nagyjából az eddigiekhez ismerten prezentálják, miközben kapott egy kisebb modernizálást is. Éppen annyit, hogy a történetet már régebb óta kedvelők se idegenedjenek tőle, de közben potenciális új nézőket is be tudjon vonzani. A cselekmény – ami egyébként négy részre van osztva, az évszakok szerint – meglepően gördülékeny és pár üresjáratot leszámítva végig le is tudta kötni a figyelmet.
A kosztümök szépen, harsányak és meglehetősen különlegesek. Tényleg mondható, hogy remekül festenek a vásznon, nagyban hozzájárulva a film egyébként is szép, élénk és vibráló képi világához. A rendezés minőségén nem látszik, hogy elsőfilmes személy munkája az Emma, ugyanis meglehetősen profin van összerakva elejétől a végéig.
Persze hozzá kell tennem, hogy a kosztümös mozikat nem túlzottan kedvelő nézőket nem az Emma fogja majd bevonzani, mert túlságosan nem tér el az eddig megismert sémától. Amennyire lehet, igényes és tényleg jól összerakott, azonban azt nem lehet elmondani róla, hogy bármilyen szempontból is kimagaslana a műfajból – viszont míves darab, amire tényleg jólesik ránézni.
A nagyjából kétórás játékidő éppen elegendő: tovább nem biztos, hogy fenn tudta volna tartani az érdeklődésemet, így viszont egy percig sem untam el magamat, éppen elég idejük van felépíteni az eseményeket és az egyes bonyodalmakat elvarrni, tehát sikerült ezt is jól eltalálni, ahogy éppen megfelelő hozzá.
Anya Taylor-Joyt már a 2015-ös indie horror, A boszorkány óta nagyon megkedveltem, azóta pedig folyamatosan megy előre a ranglétrán, egyre nagyobb nevet szerezve magának. Elég annyit mondanom, hogy ebben a szerepben is szinte akármeddig néztem volna, tényleg annyira jól nyomta. A szende "kislány" szerepében Mia Goth is megbízható alakítást nyújt, az meg gyakorlatilag tény, hogy nincs olyan film, melynek színvonalát ne emelné egyik kedvenc karakterszínészem, Bill Nighy jelenléte.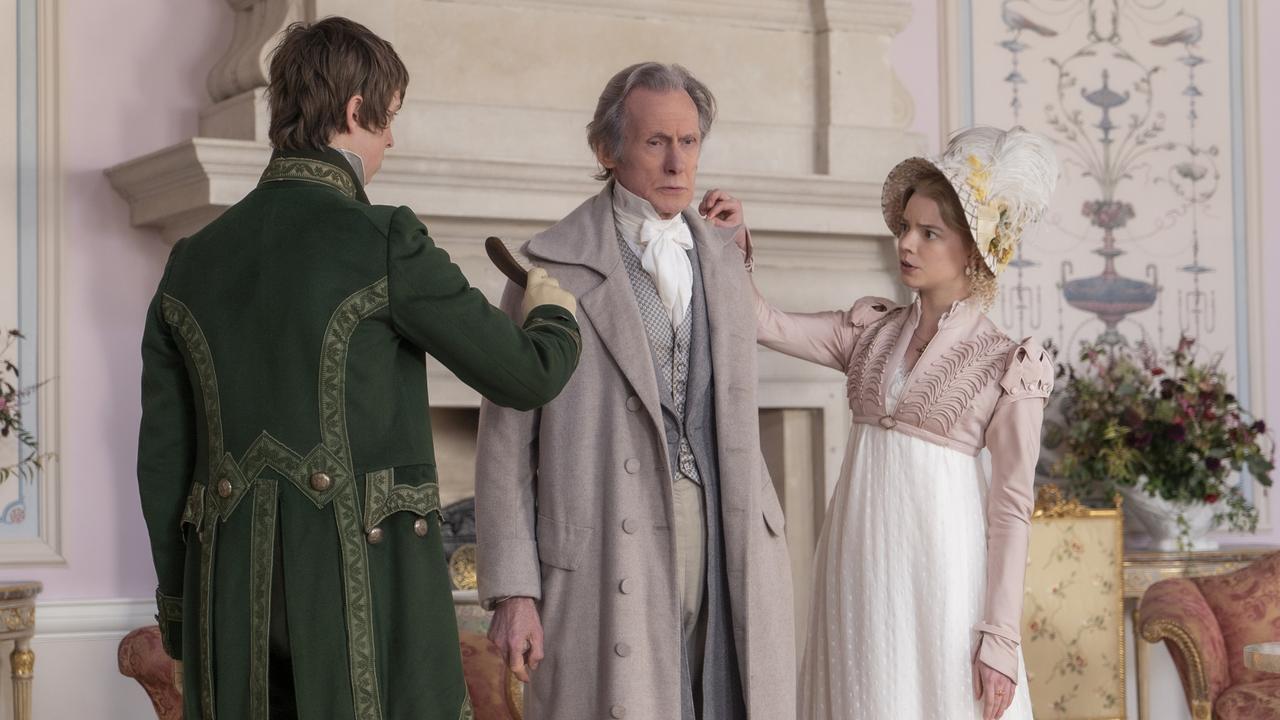 Összegezve a dolgokat, az Emma műfajának remek, szerethető darabja. Nem mondható, hogy bármilyen szempontból újat mutatna - de azt teljes egészében hozza, amiért egy ilyen filmre beül a néző, így 10/7.5 pontot simán megérdemel. Két óra kikapcsolódás, némi kis szatirikus humor, szép kosztümök, biztos kezű rendezés és egy jól ismert, de kicsit vérfrissített, a mai napig szerethető story társaságában. Úgy gondolom, alig pár év és szinte mindenki Anya Taylor-Joyról fog beszélni Hollywod-ban. Ne mondjátok, hogy nem szóltam előre. :D 
Ha tetszett, további tartalmakért iratkozz fel Youtube-csatornámra és nyomj egy kedvelést Facebook-oldalamra! Előre is köszönöm! :D