Az eddigi filmeket ITT rangsoroltam.
Itt az idő, hogy a jó és a gonosz megvívja legvégső harcát a messzi-messzi galaxisban. Lezárul a Skywalker-saga, azonban közel sem mindegy, hogy a végén melyik fél győzedelmeskedik majd. Rey (Daisy Ridley) és nem is annyira kicsi csapata mindent megtesz a cél érdekében, azonban Kylo Ren (Adam Driver) nem éppen könnyű ellenfél, valamint mindenáron a fejébe vette, hogy átállítja a lányt a sötét oldalra. Mindeközben pedig egy új, nagyon gonosz fenyegetés ébredezik, aki eddig titokban mozgatta a szálakat a sötétből…
1977-ben jött ki az első Star Wars-mozi, melyet két folytatás, valamint egy előzménytrilógia is követett. Mióta a Disney megvette a jogokat, két spin-off készült, valamint a Skywalker-korával egy újabb "hármas" is lezárult, ami egyben az eddig ismert történet lezárása is. Minden, ami elkezdődik, előbb-utóbb véget is ér. Így lett most ez a jedik és sithek örök háborújával is, a kérdés már csak az, milyen a búcsú? A film ugyanis nagyjából mindenkit megosztott, nézőket és ítészeket egyaránt.
A magam részéről elégedett vagyok alapvetően. Nem mondanám, hogy a Skywalker kora hibátlan, de mégis tetszett. Azt pedig el kell fogadni, hogy egy ilyen nagy, grandiózus lezárás esetében nincs olyan végkifejlet, ami mindenkinek megfelelne. Mert egyszerűen képtelenség. Rian Johnson megosztó alkotása (Az utolsó Jedik) után ismét Az ébredő erő direktora, J. J. Abrams ült a rendezői székbe.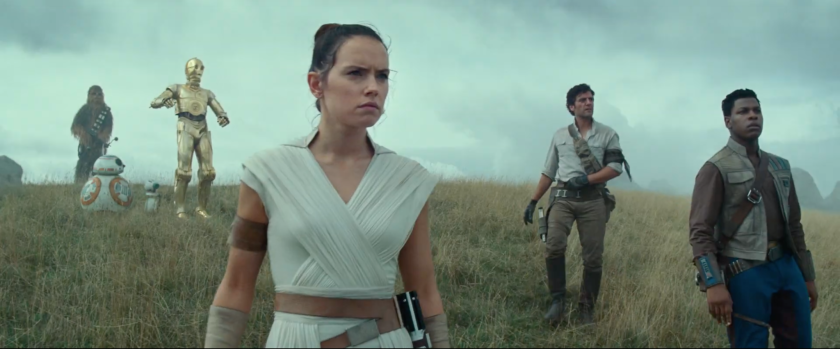 Arra érdemes felkészülni, hogy a film az össze szálat lezárja nagyjából. Ahogy a hetedik rész esetében, úgy most is erősen a nosztalgiára mentek rá. Emiatt a filmben nincs annyi bátorság, mint volt anno a nyolcadik menetben, de biztos vagyok benne, hogy még így is lesz egy csomó jelenet, amely láttán sokan nem lesznek elégedettek. Azon jómagam nem tartozom közéjük, hisz be kell vallanom, vitt magával az egész, elejétől a végéig.
Nem arra kell számítani, hogy itt most hú de sok újdonság vagy forradalmi dolgok lesznek. Nem, csak egy igazi moziélményre vágytam, valamint arra, hogy kapjon egy méltó lezárást gyerekkorom egyik legkedvesebb története. Nos, szerencsére meg is kaptam mindkettőt. Ugyanis a Skywalker kora egyértelműen olyan film, melyet a lehető legnagyobb vásznon érdemes nézni. Hamar magával ragadott a nosztalgia, s be kell vallanom, ez most elsősorban nekünk készült, igazi rajongóknak, akik már régóta imádják a Star Wars egész világát.
Természetesen ismét felcsendülnek az ikonikus dallamok. Nem bírtam ki, hogy ne legyek libabőrős minden egyes ilyen alkalommal. Egyszerűen maga a csoda. Ehhez vegyük hozzá még a korábbi részekre történő utalásokat, a visszatérő karaktereket is. Szóval tényleg egy hatalmas nosztalgiabomba az egész. Ha csak egy kicsit is szereted ezt a messzi-messzi galaxist, biztos hogy hatalmába fog keríteni az erő, a hangulat, legalább addig a bő 130 percig, míg tart.
Igyekztek egyébként tényleg mindent lezárni, legyen szó eseményekről, szereplőkről, vagy épp már egy ideje levegőben lógó dolgokról. Több dologban is beigazolódott a sejtésem, nem tudtak annyira meglepni, mint előzőleg, de mégis, ha lehetek őszinte, még ez sem zavart túlságosan. A Star Wars mindig is egy mese volt: egy mese a jó és a rossz harcáról, némi mondanivalóval, csodálatos látvánnyal no meg maximális szívvel és lélekkel. Szerencsére ezek mindegyike megvan benne most is.
Érdekes megfigyelni, hogy az egyes karakterek milyen ívet jártak be eme három filmben. Nem lennének ugyanazok az őket alakító remek színészek nélkül, annyi bizonyos. Daisy Ridley, John Boyega és Oscar Isaac továbbra is remek, de jó látni a nagy öregeket szintén, akár csak egy pillanat erejéig is (apró spoiler következik, ugorj egy sort, ha nem akarod megtudni idő előtt): hisz megkapja a maga nagy pillanatát Mark Hamill, Carrie Fisher és még Harrison Ford is. Nem is beszélve a végén lévő "hangoskodásról", bár azt úgyis csak az eredeti nyelvet választók veszik majd talán észre.
Összegezve, a Skywalker kora egy nagyon is jó alkotás. Sokan félreértelmezik, vagy éppen lehetetlen elvárásokat támasztanak vele szemben, pedig a Star Wars továbbra is egy szerethető mese, melyet a fiatalabb és idősebb generációk egyaránt élvezhetnek. Nem hibátlan persze, hisz túl sok mindent sűrítenek bele a játékidőbe, illetve nem is mindig a legbátrabb megoldást választják, de mégiscsak szerethető, szívvel-lélekkel készült alkotás. Mely lezár egy fontos korszakot a filmtörténelemben, ezzel véget ér a Skywalker família története. Két dologra tessék számítani: ahány néző, annyi vélemény lesz majd a film kapcsán, de az is szent, hogy erről még sokáig fogunk beszélni. A magam részéről azonban elégedett vagyok. Ez a Star Wars továbbra is az, amit anno régen örökre a szívembe zártam.
Értékelés:85%
Kedveld az oldalt a Facebookon is!