1968, Halloween. Pár tini bemerészkedik egy évek óta elhagyatott, bűnös múlttal bíró házba. Eleinte csak a vicc kedvéért teszik, de később komolyra fordul a dolog, mikor találnak egy titokzatos könyvet. Rövidesen kiderül, hogy az abban íródó történetek rövidesen valósággá válnak, így nagy veszélybe kerül az életük. Meg kell fejteniük a rejtélyt, illetve megakadályozniuk a gonoszt terve elkövetésében, ha a következő Halloweent is meg akarják érni…
A Scary Stories to Tell in the Dark, avagy Lidérces mesék éjszakája című film alapját egy könyvsorozat adja. Amerikában már augusztus végén bemutatkozott a vásznakon, hazánk mozitermeit azonban csak mostantól veszi be eme horror-mese. Bizony, tényleg nem túlzás a címben szereplő "mesék" szócska, ugyanis a látottakat nem igazán lehet komoly, igazi horrorként értelmezni.
Ha valaki csak most ismerkedik a műfajjal, vagy már nagyon kevés is elég neki a totális rémülethez, akár még jól is járhat itt. A film még csak az Amerikában rászabott PG-13 korhatár kereteit sem feszegeti túlzottan, hisz sok ilyen besorolással bíró műfajbéli mozi hozta a frászt a nagyérdeműre: elég A körre vagy éppen az Insidiousra gondolni. Ahhoz képest, amit itt látunk, az (számomra legalábbis) nem volt durvább, mint teszem azt, bármelyik Harry Potter-film.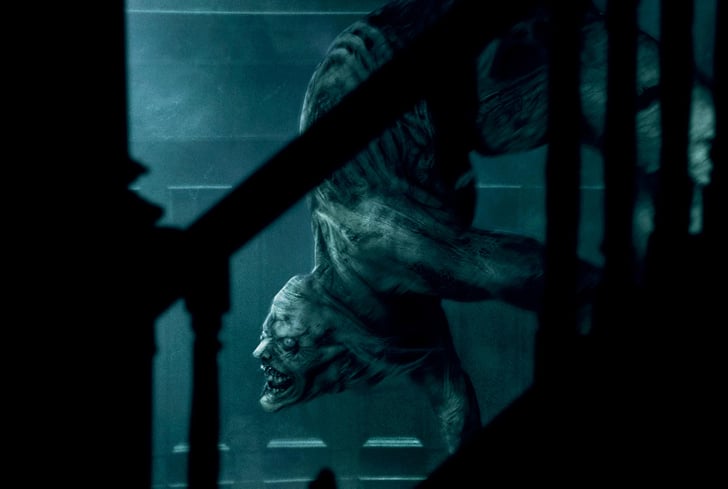 Az előzetesek és poszterek alapján valami különlegesebb, gótikusabb dologra számítottam. A készítők szemmel láthatóan nem voltak bátrak, így a végeredmény egy olyan valami lett, ami akár nyugodtan fogyasztható úgy 10-12 éves kortól, ha engem kérdeztek. (A hazai 16-os kör totális vicc, foglalkozni sem érdemes vele…)  A hangulat legalább a legtöbbször adott, ahogy groteszk vagy éppen nem mindennapi elemek is színesítik egy kicsit az összképet.
Sőt, volt egy olyan szekvencia, amely akár bármelyik lightosabb japán horrorba elment volna, hisz tényleg tartalmazott feszültséget és volt dinamikája. Ilyenből kellett volna ide jóval több. Félreértés ne essék, nincs rossz filmről szó, csak éppen úgy érzem, hogy egy középszer kategóriánál azért több volt ebben. Tudom, hogy ők voltak a fő korcsoport, de azért ennyire (!) nem kellett volna tinisre venni a figurát.
Mert maga az alapötlet, azért valljuk be, tényleg egy jó kis alkotást sejtet. Minden adott lett volna egy új klasszikus születéséhez, ehelyett tipikusan olyan élményről van szó, amit egyszer megnézünk, majd utána jó hamar el is felejtünk. Nem fáj, nem igénytelen, csak éppen nem is az igazi. A záró képsorok alapján érkezhet egy folytatás is, de nem tudom, van-e rá szükség. Maximum akkor, ha tényleg bátrabbra veszik a figurát, mert az itt látottak maximum a 10 évesek nyári táborában érhetik el a megfelelő paraszintet. Talán…
Más kérdés, hogy a '60-as évek végének atmoszféráját egészen pofásan lövi be a film. Maradjunk annyiban, még ennél is kevesebb pontot kapott volna tőlem végül, ha teszem azt, napjainkban játszódik. Így legalább hangulatosabbak a látottak, valamint néha tudják feledtetni a szörnyek és egyéb rémséges nem túl szép, láthatóan összecsapott megjelenését is. Kár, mert egyébként a képi világban lett volna úgy millió meg egy potenciál.
A gyerek (tini?) színészek nem rosszak ugyan, de nehezen hiszem, hogy bármelyikük karrierjének is ez adja meg a nagy löketet. Az egyedüli ismertebb név a mellékszerepben feltűnő Dean Norris (Breaking Bad). Érdekesség, hogy producerként és forgatókönyvíróként beszállt a mókába Guillermo del Toro is. A jelenléte nagynéha meg is látszik, de az ő stílusából is el tudtam volna viselni többet.
Összegezve, a Lidérces mesék éjszakája nem rossz ugyan, csak éppen nem is egy igazi horror. Igazi ijedősöknek, a műfajtól tartóknak kezdet gyanánt nem lesz rossz azért. Viszont, ebben az egészben ennél jóval több volt, amit nem sikerült kihozniuk belőle. Néha ötletes, pár percig akár feszült is tud lenni, de inkább jóval a hazai ajánlott korhatár, 16 év alatt ajánlom. Álmatlan éjszakák akkor sem lesznek tőle, de a csalódás is elmarad. Nézhető alkotás ez, csak éppen mennyivel, de mennyivel több is lehetett volna, ha a készítők úgy akarják. André Ovredal rendezőtől ez nekem egy kicsit vérszegény volt az egészen pazar A boncolás után. Az egyszer nézős, majd gyorsan elfelejtős cuccok iskolapéldája ez, kérem szépen.
Értékelés:55%
Kedveld az oldalt a Facebookon is!